FILMS:
The power of films is undeniable. From t.v. series to blockbuster movies, the purpose of films is to entertain us but along the way, it can also inform us. Films in general in all their creativity will delight us and take us into unknown territories with science fiction, make us relive the joy and sorrows of great men and women in Epics, and release our stress with heartfelt laughter with comedies. They might even make us believe in wishing upon a star again! Documentary films can be exceptional and often give us a wake-up call. Such films can be highly influential. Forever in the pursuit of deeper truths or the revelation of the truth, documentary films bring the public great awareness about the world they live in.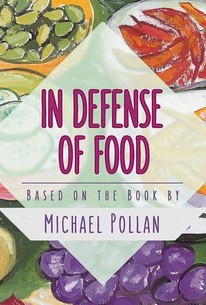 In Defence of Food: I have pretty much watched every film made on food, why? Because I seek a healthier life, that's why! Every one of them has taught me something I did not know and helped me improve my daily consumption of food. However, I had to come to terms with some contridictions along the way, and felt I had to take sides, do I eat meat, don't I eat meat, do I go vegan or vegetarian? Maybe I'll try to be
Pescetarian, I didn't even know that word existed but I learned it was a thing. I truly believe today I will never watch another food documentary again, because I have watched "In Defense of Food". A little bit on the lengthy side, so make sure you're not too tired when you sit to begin this one, you don't want to fall asleep and miss important parts. Frankly they are many. I watched it twice!
Food Inc.: It was the first film I watched regarding the state of our food industry, I was shocked at what I heard, and I was twice as shocked to see my husband watch it until the end as he often is very skeptical about many things. Food inc. is well made and gets the message accross. ~Nat
The Gerson Miracle:
This documentary captured my attention from the opening line "The cure for cancer has been discovered... in 1928". ~Nat
Every week my husband and I choose a documentary to watch on none other than NETFLIX, oh we like our Netflix indeed! We have watched quite a lot of films on Netflix, but we always enjoy a good documentary.
The list is long, and we do have our favorites.
Let me start by the list with our ratings:
INEQUALITY FOR ALL *****
I AM ****
SURVIVING PROGRESS ***
ANCIENT X-FILES ****
MOVING ZEITGEIST FORWARD *****
INSIDE CHIPOTLE ****
GLEE ***
DIRTY WARS ****
FOOD MATTERS *****
RELIGULOUS **
FORKS OVER KNIVES *****
JESUS CAMP **
FOOD INC ****
WEEDS *
BERMUDA TRIANGLE EXPOSED ***
MAN ON WIRE ***
AN INCONVENIENT TRUTH ****
ENRON (smartest guy in the room) ***
WALMART (the high cost of low price) ****
PANDORA PROMISE ****
MARCH OF THE PENGUINS *****
WE'RE NOT BROKE ****
THE SECRET ***
MOVING ART *****
DMT (the Spirit Molecule) **
MAGIC OF THE SNOWY OWL***
YOGA IS ***
JOHNNY CARSON KING OF LATE NIGHT ****
THE GERSON MIRACLE *****
ANIMAL ODD COUPLES *****
THE BEAUTIFUL TRUTH *****
FREAKONOMICS ***
HAPPY PEOPLE ***
VEGUCATED *****
WAITING FOR AMAGEDON **
TAPPED *****
HUNGRY FOR CHANGE ****
TOO CUTE *****
DEATH BY CHINA ****
THE CITY DARK *****
The list goes on, these are from most recent years and not in any particular order, I listed as I remembered. Some of these films have won awards, others not, some we have watched twice, others we left half way completed to return later when we were more awake. The last two we watched were:
Inequality for All
The most current documentary we viewed is one that landed in front of my eyeballs instantly and got my visual attention. Being a graphic designer, I do have this instant appreciation of a good cover or poster. " Inequality for All " with its strong, sarcastic title combined with the little guy holding the money cape, daring the shadow bull creeping from the bottom of the image, got my attention and desire to see the film.
Former U.S. Labor Secretary Robert Reich makes a compelling case about the serious crisis the U.S. faces due to the widening economic gap.
I decided to click.
I am a simple gal, a commercial artist. I go to work each day, make a decent living and try to do my best for my child and family. I am no economics expert but the
inspiring words of a professor who has played the economics game in the big leagues game long enough to know what isn't working--and who is also wise enough to tell us what will, succeeded in getting me to wrap my brains around many wrongs in our society.
Mr. Reich sure can educate us all. There was a moment in the film where I felt his despair, though he does end on a positive note.
What pleasantly surprised me were the interviews with republicans and millionaires who clearly had a strong voice and great impact in bringing across the case Mr. Reich makes about the
political, money
, and social issues, as well as environmental solutions.
I learned a great deal. I also understand why people like Mr. Reich didn't stay in Washington.
This film is one I will share with friends, family, facebook and highly recommend. You might even consider reading his books after this film.
Robert Reich is doing a great job of spreading awareness on the underlying problem of inequality.
You can find it on Netflix or go to:
LINK TO FILM
I AM
I liked this film, did I love it? Well no. It kept me interested to the end though. There are many interviews and views from different minds; many of them were not new to me personally but it was good to hear again and refresh my memory. There is a more scientific approach in many of the explanations and demonstrations which appealed to me. The spiritual follows and will bring a certain awakening guaranteed.
I can't say I was impressed much when the topic turned to Quantum physics but in the end the message is a good one, and a film to watch together with the entire family.